[GMW] United Nations International Day
Of Happiness - March 20, 2015
---
Dearest GMW Readers:
It is with great joy that I want to share with all of you this idea to observe and celebrate the
UN International Day Of Happiness,
tomorrow, March 20th. This is an invitation for personal reflection, to decide to be happy. :) I want to dedicate this idea to our dearest mentors Robert and Barbara Muller who I consider are two beautiful lights inspiring better ways in our precious world; and to Lionel Ketchian who invited me to become an Ambassador of Happiness For Elders in 2006. HappinessClub.com
Thank you for your heartfelt work to teach us about the importance of Happiness to craft a better world into being.
Thank you!
You can download a pdf format of the
Personal Declaration To Become An Instrument Of Happiness and Peac
e
.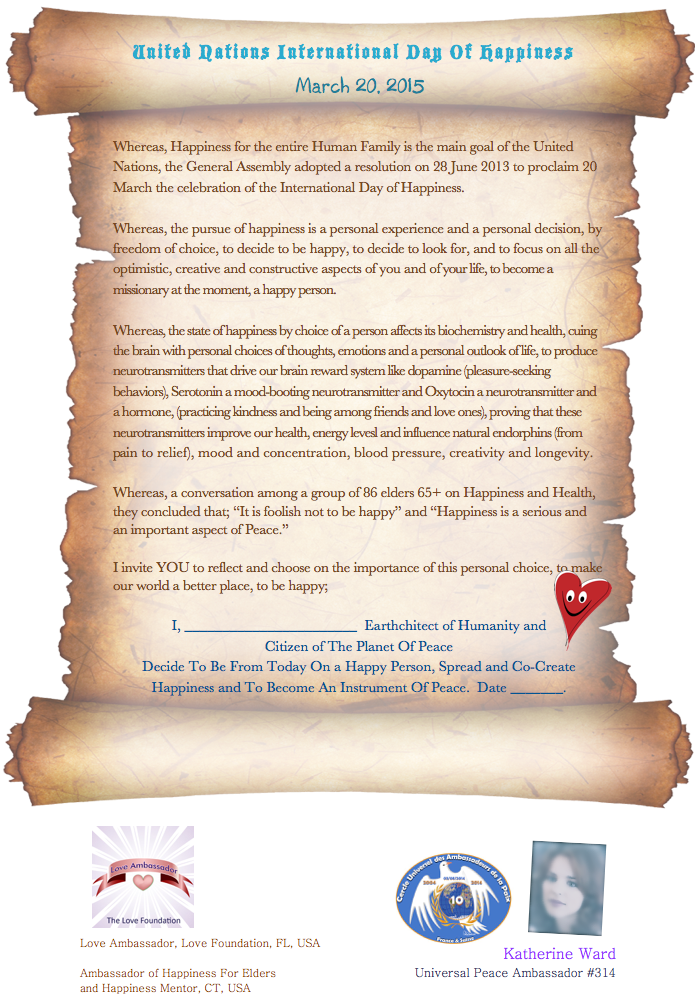 ---
Tags: Happiness, Human, Family, United Nations, Decide

, Peace, Choose, Creative, Health, Longevity,



---
More from Robert Muller:
RobertMuller.org
Subscribe to/or unsubscribe from Robert Muller's
GoodMorningWorld.org
Click on any of these tags-labels to see more entries from Robert that have the tag-label: